Focus and Scope
Tydskrif vir Letterkunde (Journal for Literature) invites the submission of original, previously unpublished research and overview articles on theoretical, applied or comparative aspects of African literatures and cultural practices.
Peer Review Process
All research articles submitted are double blind reviewed by at least two peers competent in the broad field of study. Authors are therefore requested not to indicate their names anywhere in their manuscripts. Please note: "blind review" elsewhere on this website indicates double blind review where neither the authors nor the reviewers know or have access to their respective identities.
Publication Frequency
From July 1, 2017 individual articles will be published as soon as they are ready (rolling press). Such articles will thereafter be deemed to be part of the volume earmarked at the time of acceptance, determined by the editor-in-chief.
Open Access Policy
This journal provides immediate open access to its content on the principle that making research freely available to the public supports a greater global exchange of knowledge, at the same time allowing for its maximum dissemination and use.
Articles form this journal can be submitted to institutional repositories, subject to the following conditions:
Always upload the final publishers' version as published at http://journals.assaf.org.za/index.php/tvl
Acknowledge the publisher.
Cite the article as part of the metadata and include the DOI as part of the citation to the article
Self-archiving Policy
Authors are not allowed to upload the full version of their article onto a website that promotes self-archiving. We ask that only the URL of the article as it appears on the Tydskrif vir Letterkunde website be provided on personal websites.

Plagiarism Policy
All articles submitted will be subjected to a plagiarism screening process.
Digital Preservation Policy
This journal utilizes the Portico system to create permanent archives of the journal for purposes of preservation and restoration. Click here to view Tydskrif vir Letterkunde in the Portico Keeper's Registry.
Usage & Impact
Statistics are generated through OJS, as well as all other platforms indexing Tydskrif vir Letterkunde.
Access selected statistics at: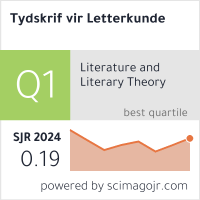 Source: SCImago Country & Journal Rank (Scopus)

Source: Google Scholar Citations Profile
Article Processing Charges (APCs)
Tydskrif vir Letterkunde charges page fees. No article submission charges apply. Article page fees: flat rate of R10 000 per article.
Gender, Racial & Language Policy
Contributions should preferably be submitted in Afrikaans, Dutch, English or French.
Research and overview articles must be accompanied by an abstract in the language of the article as well as in English, including the title of the article.
Sexist or racist language is not encouraged. Gender-specific terminology should not be used when mixed groups are intended. (E.g. do not refer to "the literary critic and his practice …" when a more generic reference is intended.) Racial nomenclature should be used with caution, if at all. Where writers deviate from this guideline, it should be motivated.
Errata
Errata or retractions of findings or statements in published articles should be brought to the attention of the editors immediately. Such corrections or alterations would be flagged and may, if necessary, be replaced with a corrected version of the article. In the event of serious transgressions of the generally accepted standards of responsible scholarship a published article may be removed from Tydskrif vir Letterkunde's website.
Sponsors
Tydskrif vir Letterkunde Association &
Department of Afrikaans, University of Pretoria, South Africa
Sources of Support
Tydskrif vir Letterkunde is a wholly independent literary journal, relying mainly on the payment of authors' processing charges (page fees).
Tydskrif vir Letterkunde is hosted using OJS, made available by the Academy of Science of South Africa (ASSAf).
Journal History
The Tydskrif vir Letterkunde is a peer-reviewed scholarly journal, published twice a year by the Tydskrif vir Letterkunde Association. The journal publishes peer-reviewed articles, overviews, review articles, reviews, commentaries on African Literature and Literary Reviews in Afrikaans, Dutch, English and French.
In 1936 the Afrikaanse Skrywerskring under the leadership of CM van den Heever, Abel Coetzee and others started the Jaarboek van die Afrikaanse Skrywerskring. This annual review continued until 1950 when it was transformed into a new quarterly.
As from 1951 its successor, the Tydskrif vir Letterkunde, with CM van den Heever as its first editor, concentrated exclusively on Afrikaans Literature and appeared quarterly.
In the early 1960s the Journal was briefly (for one issue) renamed Sestig -- Tydskrif vir Letterkunde – during the editorship of Abel Coetzee. In 1963 the Journal reverted to its previous title, restarting the series from vol 1, no 1.
Thereafter the journal was edited successively by Coenie Rudolph, Elize Botha and Henning Pieterse.
With the editorship of Hein Willemse (from 2003 onwards) fundamental changes were brought about:
from a journal publishing only on Afrikaans Literature its mission was enhanced to embrace African literature broadly;
the publication frequency changed from four times per year to twice per year;
the format of the print journal was changed to a primarily peer-reviewed literary journal. Previously the journal maintained a mixed format of creative literary writing, scholarly writing and annual literary reviews on Afrikaans literary happenings.
its policy on languages of publication was changed from Afrikaans only to Afrikaans, Dutch, English and French.
editors and associates from Africa, North America and Europe were appointed.
its focus also changed from a general informed Afrikaans readership to an advanced academic readership.