Breyten Breytenbach se uitbeelding van die gevangenis
Keywords:
Breyten Breytenbach, life in prison, Michel Foucault, panopticism, prison writing
Abstract
This article examines Breyten Breytenbach's representation of the prison, particularly in his collection of prison poems, Die ongedanste dans ("The undanced dance", 2005). Using Foucault's seminal work on the birth of the prison as a theoretical point of departure, this analysis shows how Breytenbach describes the buildings, life within prison, past-times in prison, as well as indicate to what extent the language and expressions used by the prisoners have influenced his writing. A central aspect of Foucault's writing on the prison is the concept of panopticism and in Breytenbach's poetry there is a definite reference to elements pertaining to this such as constant surveillance and the omnipresence of the wardens. In his poems written in prison there is a definite awareness of the spacing of the body and the exertion of power over the body of the prisoner as other by the wardens, who with their guns and batons are the one wielding the power in prison.
Downloads
Download data is not yet available.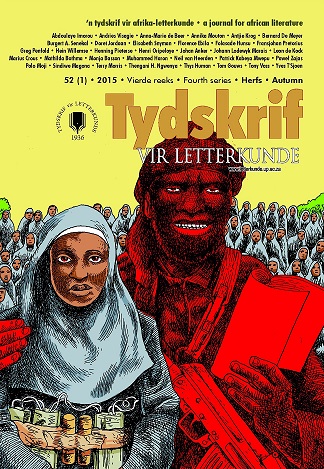 Downloads
How to Cite
Crous, M. (2015). Breyten Breytenbach se uitbeelding van die gevangenis. Tydskrif Vir Letterkunde, 52(1), 31–44. https://doi.org/10.4314/tvl.v52i1.3
Section
Research articles
License
Copyright (c) 2015 Tydskrif vir Letterkunde
This work is licensed under a Creative Commons Attribution-ShareAlike 4.0 International License.