Living the myth: Revisiting Okigbo's art and commitment
Keywords:
aesthetic, myth, Nigerian poetry, ritual, Christopher Okigbo
Abstract
This is a study of the nature and sources of the persona's quest in Christopher Okigbo's poetry. The protagonist in Okigbo's writing explores the fluid borders between aesthetic and spiritual states, with language and social action as instruments of the self's aspiration towards spiritual and aesthetic fulfillment. Although Okigbo's narration is presented in the form of dramatic ritual, the distance or severance of the material from the poet's own spiritual history is not total, for the historical content eventually intrudes into the writing and reestablishes the authentic autobiography of the poetic self. The historical context, the 1960s, is an age of transition. Okigbo's characterisation of his persona as an actor in a state of personal transition reflects the poet's sensitive immersion in the spirit of his times and establishes Okigbo the poet as perhaps its ideal representative. One of the issues raised in this study is that in spite of the protagonist's recurrent return to the point of passage, there is a relentless drive towards death seen ambiguously as the ultimate goal and state of perfection as well as the perfect form of transition. The central question explored in this study is the roles of poetic diction, the tense politics of the 1960s and the poet's own intense temperament in determining his peculiar choice of resolution to the dilemma at the centre of his poetry.
Downloads
Download data is not yet available.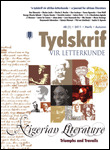 Downloads
How to Cite
Izevbaye, D. (2011). Living the myth: Revisiting Okigbo's art and commitment. Tydskrif Vir Letterkunde, 48(1), 13–25. https://doi.org/10.4314/tvl.v48i1.63817
Section
Research articles
License
Copyright (c) 2011 Tydskrif vir Letterkunde
This work is licensed under a Creative Commons Attribution-ShareAlike 4.0 International License.