Chinua Achebe: A re-assessment
Keywords:
Chinua Achebe, indigenous Nigerian traditions, political leadership, social criticism
Abstract
This article argues that the genius of Chinua Achebe as a novelist was definitely assisted by the advantage of an early start so that other African writers had no choice but to look up to him. It was Chinua Achebe who established and defined the Nigerian tradition in the novel, a tradition that takes its roots from our folk culture and creatively makes use of our proverbs, legends, folktales, and local myths, thus giving expression to our national culture. And by making capital of what is indigenous in both Nigerian and African literature, Achebe established the total rehabilitation of the image and dignity of the African personality bruised and damaged by the colonial master. Achebe's achievements were indeed so fascinating that a "School of Achebe" arose. It is understood that both in his fictional and non-fictional works plus his interviews and other critical essays, Achebe is at heart a social critic. This is made clear in The Trouble with Nigeria in which he concentrated on the issue of poor leadership in Nigeria. He had equally dealt with the problem of poor leadership in his earlier fiction where he created leaders who failed their people. With the failure of both leaders of the old order and of the military regimes, Achebe places his hopes on the elite on whom the duty of salvaging Nigeria from her leadership problems rests. But will the elite rise up to the challenge? Achebe is a writer to whom we are grateful.
Downloads
Download data is not yet available.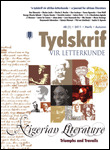 Downloads
How to Cite
Nnolim, C. E. (2011). Chinua Achebe: A re-assessment. Tydskrif Vir Letterkunde, 48(1), 39–50. https://doi.org/10.4314/tvl.v48i1.63819
Section
Research articles
License
Copyright (c) 2011 Tydskrif vir Letterkunde
This work is licensed under a Creative Commons Attribution-ShareAlike 4.0 International License.