History and ideology in Chimamanda Adichie's fiction
Keywords:
African cultural traditions, African male autocracy, Nigerian women fiction, colonial social values, religious chauvinism
Abstract
The colonial experience of the African and the imposition of colonial values on the African worldview are factors that indeed had provided the impetus and even motivation for much of the literary production in the continent. This essay traces specifically the issue of religious ideology/conflict from Achebe through Ngugi to Adichie. It attempts to show that in the successful execution of her goals and objectives in Purple Hibiscus, Chimamanda Adichie mounts the rostrum reserved for the African masters of the art. In this novel, she, in addition to other things, shows the wickedness perpetrated by overzealous African converts who often demand and expect (from their dependants) the degree of self-negation which Soyinka has identified as cultural hostility. The essay further posits that in the celebration of Nigerian history, even when 'temporarily dislocated', as well as our legitimate niche in the Commonwealth of Nations, as she has done in Half of a Yellow Sun, Adichie educates non-Africans and alienated Africans about the indomitable African spirit. 
Downloads
Download data is not yet available.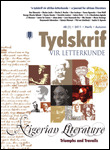 Downloads
How to Cite
Ogwude, S. O. (2011). History and ideology in Chimamanda Adichie's fiction. Tydskrif Vir Letterkunde, 48(1), 110–123. https://doi.org/10.4314/tvl.v48i1.63824
Section
Research articles
License
Copyright (c) 2011 Tydskrif vir Letterkunde
This work is licensed under a Creative Commons Attribution-ShareAlike 4.0 International License.