The writing of Arthur Fula: modernity, language, place and religion
Keywords:
Afrikaans literature, Arthur Fula, Black Afrikaans writing, Jim-comes-to-Jo'burg-novels, South African literature
Abstract
Arthur Fula's debut novel Jôhannie giet die beeld (Lit: Johannesburg moulds the graven image) was well received in the beginning of 1954 but has in recent years been largely forgotten. The novel was promoted as the first "by a Bantu in Afrikaans", a designation that differentiated him, a third language speaker, from the typical Afrikaans writer who was ordinarily a  white, first language speaker. The novel registers, in the tradition of the ˜'Jim-comes-to Jo'burg novels', the migration of black characters to the urban areas with the persistent struggle between indigenous traditions and the presence of an unknown, even threatening Western modernity. In his second novel Met erbarming, O Here (With Compassion, Oh Lord, 1957) Fula made peace with the permanency of urban black Africans and their aspirations. This essay introduces the emergence of the autodidact Fula's authorship amidst a period of profound change and adaptation in South Africa during the 1950s, tracing his personal history, the circumstances of his writing and choice of language, and the reception of his debut novel.
Downloads
Download data is not yet available.
References
Cloete, T. T. "Die eerste Bantoeroman in Afrikaans." Ons eie boek, vol 20, no 2, 1954, pp. 77–8.
Britz, Elretha. "Pionierskrywer gehuldig." Netwerk24.com. 12 May 2016. http://www.netwerk24.com/Vermaak/Boeke/pionierskrywer-gehuldig-20160511.
Fula, Arthur. "Ancestral Worship only way out." The Bantu World, 25 July 1936.
Fula, Arthur. Letter to Mrs. J.P. van der Merwe. 26.2.57. [Photocopy in NALN's Fula collection, Bloemfontein.] Manuscript.
Fula, Arthur. Jôhannie giet die beeld. Afrikaanse Pers-Boekhandel, 1954.
Fula, Arthur. Met erbarming, O Here. Afrikaanse Pers-Boekhandel, 1957.
Fula celebration held in Orlando West, Soweto. 3 Sept. 2017. Video recording.
Fula, Don. Personal communication. 17 Sept. 2016.
Herdeck, Donald. African Authors. A Companion to Black African Writing 1300–1973. Black Orpheus Press, 1973.
Jahn, Janheinz; Ulla Schild; Almut Nordman. Who's Who in African Literature. Horts Erdmann, 1972.
Lasker, Carrol. "Introduction". The Golden Magnet. Arthur Nuthall Fula. Three Continents Press, 1984, pp. vii-xxv.
Masilela, Ntongela. "New African modernity and the New African movement." The Cambridge History of South African Literature, edited David Attwell and Derek Attridge. C U P, 2012, pp. 325–38.
Masilela, Ntongela. "Theorising the Modernist moment of New African Intellectuals." New African Intellectuals and New African Thought in the Twentieth Century, edited by Mbukeni Herbert Mnguni. Waxmann Verlag, 2015.
[NALN biography]. Fula, Arthur. [Photocopy in NALN's Fula collection, Bloemfontein.]
"Peter Sulzer." Namibiana Buch Depot. 16 Nov 2013. <http://www.namibiana.de/namibia-information/who-is-who/autoren/infos-zur-person/peter-sulzer.html.
President of the Republic of South Africa. National Orders Booklet 2017. 2017. http://www.thepresidency.gov.za/content/national-orders-booklet-2017.
Qoopane, Flaxman. "Tribute paid to novelist and poet." Bloemfontein Courant. 26 May 2016. http://www.bloemfonteincourant.co.za/tribute-paid-novelist-poet/.
Staff reporter. "Native's novel in Afrikaans seen as 'literary sensation.'" The Star, 15 Jan 1954.
Sulzer, Peter. Letter to Barend J. Tourien. 6.8.1988. Manuscript.
Sulzer, Peter. Südafrikaner erzählen. Verlag Gute Schriften, 1963.
Sulzer, Peter. Südafrika im Spiegel der Afrikaans Literatur. 1965. Manuscript.
Trekker. "Afrikaans in die mond van 'n Bantoe." Die Vaderland, 1 Apr. 1954.
Van Rooyen, G. P. Sir John Ernest Adamson as Direkteur van Onderwys (1905–1924). Diss. Potchefstroom U for CHE, 1951. https://dspace.nwu.ac.za/handle/10394/8581.
Willemse, Hein. Aan die ander kant. Swart Afrikaanse skrywers in die Afrikaanse letterkunde. Protea Boekhuis, 2007.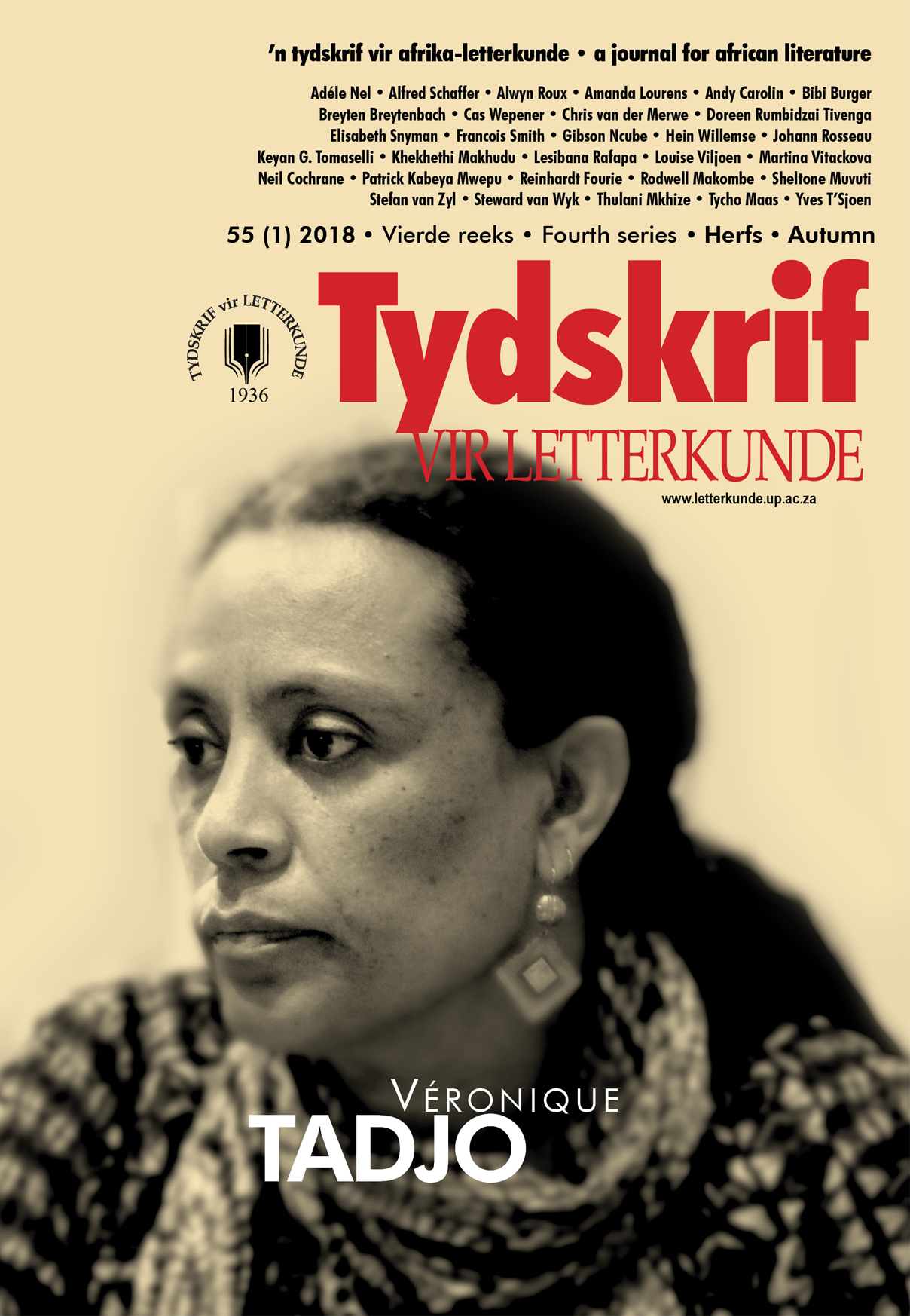 Downloads
How to Cite
Willemse, H. (2018). The writing of Arthur Fula: modernity, language, place and religion. Tydskrif Vir Letterkunde, 55(1), 54–69. https://doi.org/10.17159/2309-9070/tvl.v.55i1.3014
Section
Research articles
License
Copyright (c) 2018 Tydskrif vir Letterkunde
This work is licensed under a Creative Commons Attribution-ShareAlike 4.0 International License.