Boerneef en die volkspoësie
Keywords:
Boerneef, I.W. van der Merwe, volkspoësie, oral poetry
Abstract

The poet Boerneef (pseudonym of I. W. van der Merwe, 1897-1967) referred to his own poetry as volkspoësie (oral poetry). This is in contradistinction to the usual conception of oral literature as traditional verbal art handed down by word of mouth and distinguished from the written traditions produced by individual authors. This article investigates the relationship between Boerneef's work and traditional Afrikaans and Dutch oral poetry. An analysis shows a variety of similarities: In a few poems traditional material is presented directly, while in the rest of his work various oral poetic elements are transformed into highly original literary procédè's. In the process Boerneef succeedes in bringing his poetry closer to the primitive tradition than any other Afrikaans author.
Downloads
Download data is not yet available.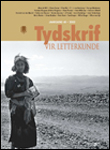 Downloads
How to Cite
van Zyl, W. (2003). Boerneef en die volkspoësie. Tydskrif Vir Letterkunde, 40, 54–70. https://doi.org/10.4314/tvl.v40i1.53619
Section
Research articles
License
Copyright (c) 2003 Tydskrif vir Letterkunde
This work is licensed under a Creative Commons Attribution-ShareAlike 4.0 International License.