In-between spaces in Klara du Plessis's Ekke: Identity, language and art
Keywords:
transnationalism, transnational identity, transligualism, multilingual poetry, Klara du Plessis, Bloemfontein in literature, ekphrasis
Abstract
In this review article, we focus on the depiction of the transnational and translingual as a state of being in-between in Klara du Plessis's debut poetry collection, Ekke (2018). This in-between state has implications for how identity, place and visual art feature in the collection. Ekke contains fragments of German and French, but consists mainly of English interspersed with Afrikaans. The creation of meaning through this linguistic slippage reflects the idea of identity as always in-process that comes to the fore throughout the collection. Ekke also represents an intervention in South African urban literature, as Bloemfontein, a city not much featured in literature, is represented in several poems. In these poems, the poet/speaker struggles to situate Bloemfontein and its surrounding areas' histories and symbolism in the transnational networks that she is a part of. The conception of identity and language being constantly in-progress is also conveyed in the collection's poems about visual art. In these poems, meaning is created through the interaction of language with visual art, a process the poet calls 'intervisuality'.
Downloads
Download data is not yet available.
References
De Villiers, Isolde. "The Marginalised Centre: Overlooked cities in South Africa's interior." Overlooked Cities: Power, Politics and Knowledge Beyond the Urban South, edited by Hanna A. Ruszczyk, Erwin Nugraha & Isolde de Villiers. Routledge, 2021, pp. 55–67.
De Wet, Karen. "Van Komas tot Kamfer en kie: die aard en manifesteringsvorme van eenheidsdigbundels in Afrikaans." Stilet vol. 28, no. 1, 2016, pp. 20–44.
Du Plessis, Klara. Ekke. Palimpsest, 2018.
Du Plessis, Klara. Hell Light Flesh. Palimpsest, 2020.
Du Plessis, Klara. "Introducing: Writing in English from a Multilingual Perspective." The Town Crier. 3 Oct. 2016. https://towncrier.puritan-magazine.com/writing-in-english/.
Geisler, Anna. "Stones Skipping Across Water: On Klara du Plessis' Ekke." Prism Magazine. 16 Aug. 2018. https://prismmagazine.ca/2018/08/16/stones-skipping-across-water-on-klara-du-plessis-ekke/.
Gonsalves, Charles. "Therefore Therein All There Is Is There: A Review of Klara du Plessis' Ekke". Contemporary Verse 2. 10 Dec. 2018. https://contemporaryverse2.ca/reviews/ekke/.
Lindsay, James. "An interview with Klara du Plessis". Open Book. 13 Jul. 2018. http://open-book.ca/Columnists/An-interview-with-Klara-du-Plessis.
Marais, Lochner & Gustav Visser. Spatialities of Urban Change: Selected themes from Bloemfontein at the beginning of the 21st century. SUN, 2008.
Shapiro, Gary. "The Absent Image: Ekphrasis and the 'Infinite Relation' of Translation." Journal of Visual Culture vol. 6, no. 1, 2007, pp. 13–24. DOI: https://doi.org/10.1177/1470412907075065.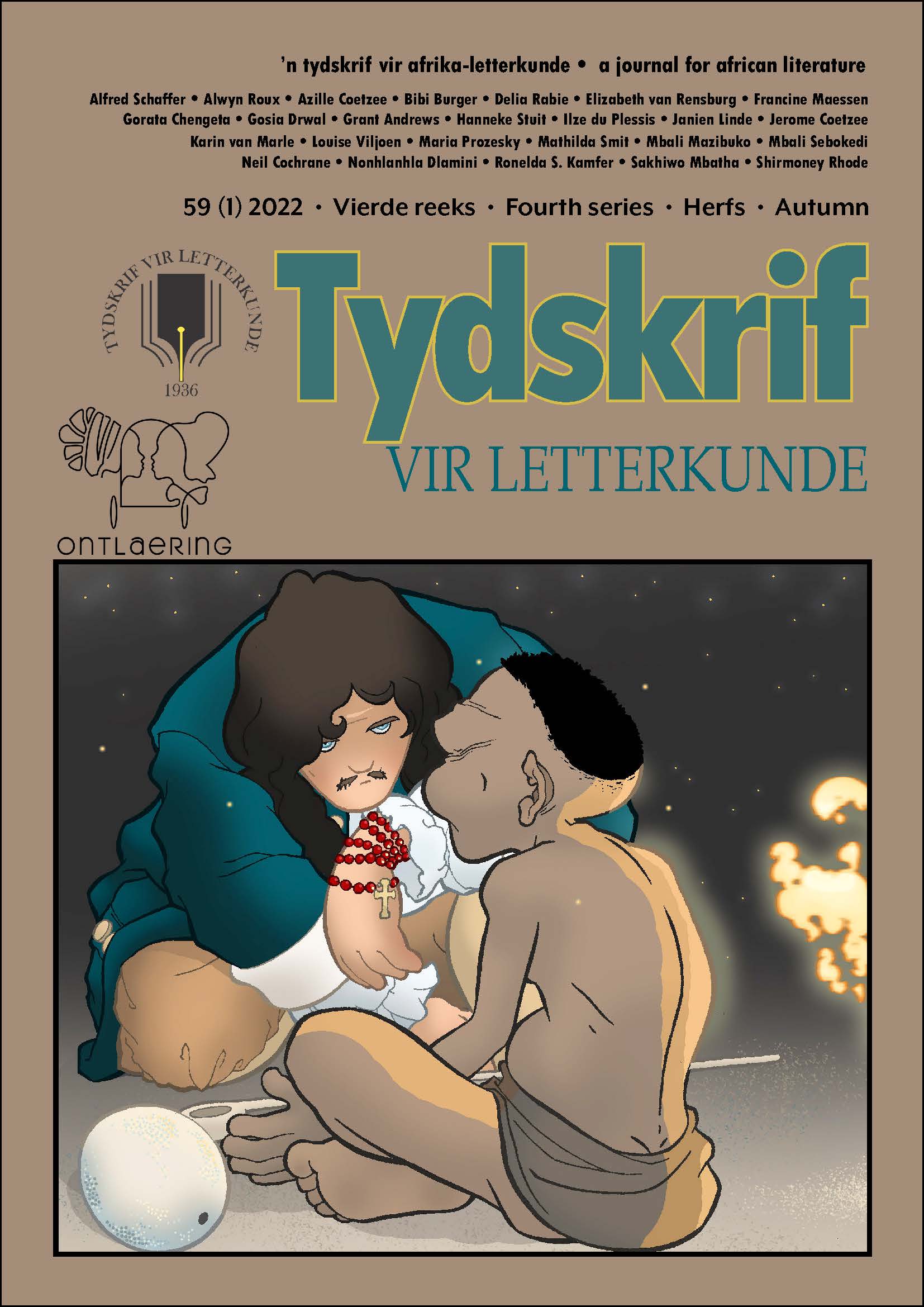 How to Cite
Maessen, F., Burger, B., & Smit, M. (2022). In-between spaces in Klara du Plessis's Ekke: Identity, language and art. Tydskrif Vir Letterkunde, 59(1), 7–13. https://doi.org/10.17159/tl.v59i1.13298
License
Copyright (c) 2022 Tydskrif vir Letterkunde
This work is licensed under a Creative Commons Attribution-ShareAlike 4.0 International License.