Identité, langues et savoirs dans Riwan ou le chemin de sable de Ken Bugul
Keywords:
Ken Bugul, Riwan ou le chemin de sable, identity, language, socioculture
Abstract
The present paper, which draws its analytic and hermeneutic postulates from the Michel Pierssen's notion of the epistemocritic, intends to study the mechanisms of the renegotiation of identity in Ken Bugul's Riwan ou le chemin de sable. The narrator's decision to return to her native land results from her frustration with discrimination as well as from the fear of losing herself. The study considers that the return to native land is not a withdrawal to one's identity but a kind of poetizing of one of many various ways of life found within contemporary Senegalese society. The paper explores different forms of representation in cultural Senegalese knowledge through the perspectives of savoir-faire (knowledge of how to behave) and savoir-dire (knowledge of how to express) which take into account taboo and cultural interdict. These articulations of traditional knowledge appear as signs of the reinstatement of the narrator in her socioculture (Dassi 2008), which Dumont (1994) also calls culture dispersé (scattered culture) and form the keys of her reconnection with its origins and of the reconstruction of her identity.
Downloads
Download data is not yet available.
References
Abdallah-Pretceille, Martine. "Langue et identité culturelle." Enfance vol. 45, no. 4, 1991, pp. 305–9. DOI: https://doi.org/10.3406/enfan.1991.1986.
Abdelmalek, Sayad. L'immigration ou les paradoxes de l'altérité. L'illusion du provisoire. Raisons d'agir, 2006.
Andersen, HanneLeth. "Langue et culture: jamais l'une sans l'autre …" Synergies, Pays Scandinaves vol. 4, 2009, 79–88.
Baudrillard, Jean. Mots de passe. Le Livre de poche, 2000.
Calvet, Louis-Jean. La sociolinguistique. 4ème éd. P U France, 2002.
Dassi, M. Phrase française et francographie africaine: de l'influence de la socioculture. Lincom Europa, 2008.
Denooz, Laurence & Sylvie Thiéblemont-Dollet (eds). Le Moi et l'autre. P U Nancy, 2011.
Devos Thierry, "Identité sociale et émotions intergroupes." Les Cahiers Internationaux de Psychologie Sociale vol. 3/4, no. 67–8, 2005, pp. 85–100. DOI: https://doi.org/10.3917/cips.067.0085.
Dumont, Fernand. Le lieu de l'homme: la culture comme distance et mémoire. Editions H M H, 1963.
Fiske, Susan. "Autour de la psychologie des catégorisations sociales: stéréotypes, structures sociales et pouvoir." Terrains/Théories no. 3. DOI: https://doi.org/10.4000/teth.603.
Fopa Kuete, Roger. "Les tabous et les interdits dans le roman africaine: conflits sur le sens." Tabous: Représentations fonctions et impacts. Eds. Bana Barka & Lozzi Martial M. Kamtchueng. Miraclaire, 2018. pp. 291–99. DOI: https://doi.org/10.4000/books.pur.41611.
Geets, Claude. "La peur de la différence." Pensée plurielle vol. 5, 2003, pp. 7–16. DOI: https://doi.org/10.3917/pp.005.0007.
Glissant, Édouard. Introduction à une poétique du divers. Gallimard, 1990.
Guiyoba, François. "La problématique du développement en Afrique noire: une approche mythocritique et mythanalytique." Syllabus: Revue scientifique interdisciplinaire de l'école normale supérieure vol. 2, no. 3, 2011, pp. 285–311.
Hamon, Philippe. Texte et idéologie. P U France, 1984.
Juranville, Anne. "L'érotisme en question: Regard sur quelques aspects de la littérature féminine contemporaine." Connexions vol. 87, no. 1, 2007, pp. 19–42. DOI: https://doi.org/10.3917/cnx.087.0019.
Ken Bugul. Riwan ou le chemin de sable. Présence Africaine, 1999.
Maalouf, Amin. Les identités meurtrières. Grasset et Fasquelle, 1998.
Marchal, Hervé. L'identité en question. Ellipses, 2012.
Martins, Catarina. "Polyphonic Disconcert around Polygyny: 'Riwan ou Le Chemin de Sable' by Ken Bugul (Senegal) and 'Niketche. A Story of Polygamy' by Paulina Chiziane (Mozambique)." Cahiers d'Études Africaines vol. 55, Cahier 220, 2015, pp. 787–810. DOI: https://doi.org/10.4000/etudesafricaines.18305.
Mbembe, Achille. "A propos des écritures africaines de soi." Politique africaine no. 77, 2000, pp. 16–43. DOI: https://doi.org/10.3917/polaf.077.0016.
Mbembe, Achille. De la postcolonie. Essai sur l'imagination politique dans l'Afrique contemporaine. Karthala, 2000.
Michaud, Guy. "Le thème du miroir dans le symbolisme français." Cahiers de l'AIEF, 1959, pp. 199–216.
Ndiaye, Amadou Falilou & Moussa Sagna. "Le Baobab fou, Riwan ou le chemin de sable et De l'autre côté du regard: Les Autobiographies féministes de Ken Bugul." Nouvelles Études Francophones vol. 32, no, 1, 2017, pp. 57–69. DOI: https://doi.org/10.1353/nef.2017.0005.
Pierssens, Michel. Savoirs à l'œuvre: Essais d'épistémocritique. P U Lille, 1990.
Puren, Christian. "La compétence culturelle et ses composantes." Savoirs et Formations no. 3, 2013, pp. 6–15.
Redfield, Robert, Ralph Linton & J. Melville Herskovits. "Memorandum for the study of acculturation." American anthropologist vol. 38, no. 1, 1936, pp. 149–52, DOI: https://doi.org/10.1525/aa.1936.38.1.02a00330.
Rimbaud, Sophie. "L'acquisition du genre et du code switching chez l'enfant bilingue précoce". Memoire online. https://www.memoireonline.com/01/12/5212/m_Lacquisition-du-genre-et-du-code-switching-chez-lenfant-bilingue-precoce10.html. Accédé le 3 mar. 2018.
Tajfel, Henri & John Turner. "The Social Identity Theory of Intergroup Behavior." Political Psychology: Key Readings. Eds. John T. Jost & Jim Sidanius. Psychology, 2004, pp. 276–93.
Treiber, Nicholas. "Ken Bugul: Les chemins d'une identité narrative." Hommes et migrations no. 1297, 2012, pp. 44–55. DOI: https://doi.org/10.4000/hommesmigrations.1545.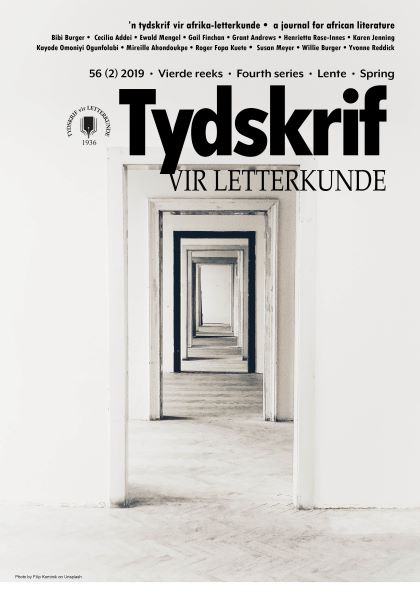 Downloads
How to Cite
Fopa Kuete, R. (2019). Identité, langues et savoirs dans Riwan ou le chemin de sable de Ken Bugul. Tydskrif Vir Letterkunde, 56(2), 46–53. https://doi.org/10.17159/2309-9070/tvl.v.56i2.5427
Section
Research articles